hii.... i am Utkarsh Jain,
if you are planning to install a new rom in your phone first u need to get back to the original
stock rom so
today i m going to tel you how to flash your samsung galaxy mobile phone to original stock firmware.....its not any tuff task u just need to follow the instructions......
Some important instruction to follow before proceeding :
charge your phone to at lest 65-70% before going for flashing

enable usb dubbing mode in your phone....it is found in setting>app setting>development

install usb driver in ur PC .......usb driver for different phones available

HERE

make sure that your phone is connectable with PC ......

now i suggest to remove the sim from your phone before flashing
Thing u need to download:
Download stock rom for your phone : stock rom for all samsung phones available HERE
stock rom for galaxy pocket (indian) download from

HERE

Download ODIN software from

Here

,

.
NOTE = If the above download link does not open then press
Procedure:
proceed at your own risk
1. Download and place both the files onto your Desktop.
2. Extract files from both the archives to your Desktop.
3. Double-click on Odin executable file and it'll launch.
4. Click on PDA and select the Stock Firmware file you extracted earlier to your Desktop.
Now Click on 'Phone' and further click on a file which has 'MODEM' in its name (if any)
Now click on 'CSC' and click on the file which has 'CSC' in its name (if any)
Click on 'PIT' and click on the .pit file (if any)
5. Checkmark the boxes that say Auto Reboot and F. Reset Time.
6. Leave the Repartition box unchecked.
7. Turn OFF your device.
8. Reboot your device into Download mode. To do that, simply hold down the Volume DOWN+Home+Power buttons together. you will see like this now press volume up
now press volume up you get download mode
9. Once inside Download mode, connect your device to your PC via USB cable.
it will show yellow in odin if mobile get connected
like this
or
like this
10. Click on Start button in the Odin and it'll begin the flashing process.
At this point, DO NOT remove your device until ODIN says finished, or if something goes wrong, it will say failed.
11. It may take a few minutes to finish the process, so be patient.
you will get a green (pass signal)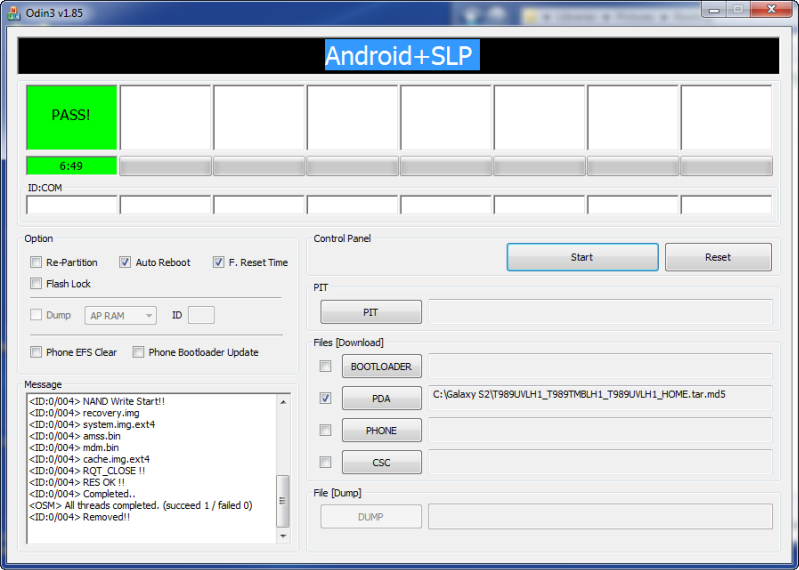 12. Once it's done, reboot your device.
disconnet phone and if your phone dossent star dont worry pull the battery out replace it just go to recovery mode (vloume up+menu button+power button) you will get a window like this
now select the last 2 "wipe data factory reset" & "wipe cache" one by one using volume button and delete user and restart or sellect reboot .......
Brilliant! you have dun
13. And you're unrooted now!
Brilliant! Your device's successfully been unrooted and is now running the official stock firmware.